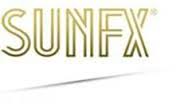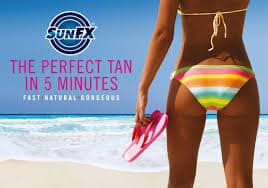 SunFX Spray Tanning
Straight From Mother Nature Herself!
Carrie's Skincare in Redonod Beach exclusively uses SunFX Spray Tanning Solution, the World's No. 1 Tanning Solution from Australia! The unique combination of mineral salt bronzers and the approved cosmetic tanning agent DHA produce a truly remarkable instant tanning result. 
SunFX  is the healthy sunless tanning alternative, offering perfect coverage for a fast, natural looking tan every time. Sunfx spray tanning solutions are a unique combination of Organic, Natural and Hypo-Allergenic ingredients that not only deliver the perfect tan but build, nourish and hydrate the skin all at the same time.  So if you want the perfect spray tan don't settle for second best. Ask for the world's number one professional spray-on tan.
To achieve this SunFX has created tanning solutions made from 100% all natural ingredients containing:
No Alcohols
No Preservatives
No Perfumes
No Oils
No Parabens
No Odours
The incredible SunFX Spray Tanning Solution is professionally applied in about 5 minutes. You will experience an immediate natural looking tan that will continue to develop over the next 5 to 12 hours. SunFX gives you an impressive and natural looking tan. In fact, in many
instances the result can be superior to sun and solarium exposure.
Make an appointment now. I will provide you with all the information you need to ensure you of the optimum tanning result.
 Spray Tanning Services
SunFX Spray Tan  -   $45
SunFX Spray Tan Series of 5  -   $150 Save 33%
SunFX Spray Tan Series of 10  -   $250 Save 44%
* Under 18 - Must come in for a Patch Test prior to first service.
 SunFX Tanning Products
We carry 'Glow all Over' SunFX Instant Spray-on Tan, the
world's simplest and quickest system for delivering an instant tanning result you can take home with you! The unique combination of bronzers and the fully approved skin tanning agent DHA, produce a remarkable instant tanning effect that can last up to 7 days on most skin types.
SunFX Travel Packs available in convenient 2oz. sizes of Top Tan Extending Products.
SunFX Tan Extender, Body Shimmer and Body Polish and Summer Secret are also available.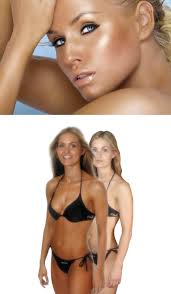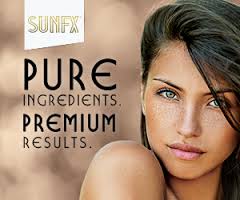 Follow these steps to ensure the very best tan with SunFX 
Before Tanning
Exfoliate your body before the application. This is easily accomplished by rubbing a damp soapy face washer firmly over your skin when showering. Pay attention to rough skin areas like knees, elbows, ankles and the tops of your feet.
Do not apply moisturiser to your skin at this stage as doing this will reduce the final result.  We also recommend that you don't wear any make-up. Wear attire suitable for tanning: we suggest a bikini for women and dark shorts or swimmers for men.
After Tanning
Once your tan is applied, you must allow it to dry completely. We will ensure that your application is dry before you leave, but as a precaution, do not wet your skin for at least 5 hours after the tanning session. Showering the following morning is the best option.
We also recommend that you do not exercise or perspire excessively between the tanning and the showering phase. When showering don't be concerned if some of the initial bronzer washes off - this is part of the SunFX tanning process, and your skin will continue to tan.
Apply moisturiser twice daily after showering. This reduces the rate at which your skin exfoliates and will keep your tan looking better for longer.
Other considerations in maintaining your tan are to avoid long baths, hot spas and extended swimming sessions. Shorter sessions are preferable. Also avoid products designed to exfoliate your skin.
Important Information
Skin: If you feel you have highly sensitive skin, or you have any doubts, we recommend a small localized test spray to check your skin compatibility before having your full SunFX body spray.
Clothing 
We recommend that you wear dark, loose fitting attire after your appointment. Any minor rub-off will easily wash out of most fabrics, but some lighter colored materials, including leather, may stain.
Sunscreen: The SunFX spray-on tan does not provide any sun protection and it does not contain a sunscreen. Please make sure you apply sunscreen to prevent sunburn.